Linksys WRT54G router setup?
The Linksys WRT54G router setup is very easy and you can do it yourself. This old Linksys WRT54G is now Out of Warranty. Out of warranty does not mean that it is not working. It is still in a working condition and you just need few steps to make it working. Linksys router setup is very easy.
Check the status of the power light on your router. If the power light is solid then it can be repaired.
Linksys WRT54G is one of the G technology Broadband routers which works with Cable or DSL Internet service. It has 4 Ethernet ports where you can connect 4 computers using Ethernet cable. If you want to connect more than 4 wired computers/devices in the network with the Ethernet cable then you can use a switch to increase the number of ports. You can also use up to 32 wireless computers with linksys WRT54G.
Wrt54g is one of the most trusted and reliable routers. It works on G technology and you will get maximum wireless speed of 54 Mbps. The maximum wired speed will be 100 Mbps.
Linksys WRT54G setup without CD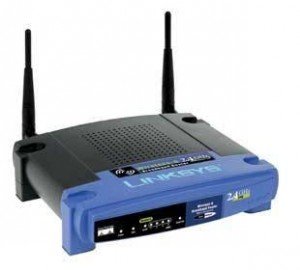 If you are not able to run  installation  CD then you can follow the Linksys router setup steps to install it without CD.
For this you will need to access the Linksys WRT54G setup page.
Connect the main computer to the Ethernet port on the router.
Connect the modem to the Internet port on the router.
Check the light status. You will see Power, Ethernet, wireless and Internet light.
Open the setup page Linksys router setup page and change the Internet connection settings manually so that your main computer will be able to access Internet through the Internet.
Create a new wireless network for your wifi devices. Setup unique wireless network security key. DO not share your wireless network password.
Get access to Fix Home Network's Easy setup Guide and start setting up your Linksys WRT54G router manually.
How to connect to the wireless network ?
Before connecting to the wireless network on your laptop or any other device, make sure that you have all settings of the network. You need to know the name of the network ( SSID ) and the wireless security key or password. Once you have all the settings then you can try to connect. The steps to connect will be different for different operating systems.
Click here for easy steps to connect to the wireless network
Linksys WRT54G Firmware upgrade:
Firmware is the software of the router. Linksys WRT54G version 5 and 6 need firmware upgrade. If you have trouble connecting to the wireless network or slow speed  then download and upgrade the Linksys WRT54g router firmware. The firmware file for Linksys WRT54G version 1 to 4 is same. For Linksys WRT54G version 5 and 6 the firmware file is same.
See WRT54G firmware upgrade steps :
Linksys WRT54G version 1 to 7 are the routers come with 3 years of hardware warranty period and 3 years of free technical support. Version 8 has hardware warranty of 1 year with free technical support.
The internet is also the first place you will go when you are planning to get technical support. There are many websites with lot of general information about Linksys wrt54g setup. But all the networks are not same.You need proper simple steps to fix your problem.
What is the default Linksys WRT54G router password?
The default password of WRt54G router is admin, leave the user name blank. If this is not working then try your common passwords. If that is also not working then you may need to reset the device and reconfigure it. remember, if you reset the device, it will come back to factory default and you will lose all the settings.
Fix Home Network
Thousands of satisfied users !
Easy setup Guide is mainly designed for Linksys router setup without installation software. It will definitely help you fix your Linksys WRT54G setup manually. I hope, you will like it.