Linksys wireless N bridge WET610N
Linksys WET610N is a dual-band wireless Ethernet bridge based on IEEE 802.11n draft 2.0 and optimized for video transmission. WET610N can operate in either 2.4GHz or 5.0GHz radio bands (selectable dual-band), and it is fully backward compatible with widely deployed 802.11a/b/g infrastructure, 1-Port 10/100 Mbps half or full-duplex modes, auto-sensing, integrated QoS features.
The IP Address is set to DHCP, if you have a router or DHCP server check the DHCP Clients table for address. If there is no DHCP Server detected the Bridge will default to the IP address 169.254.1.250 with no user name and the password is "admin".
WET610N does not have default IP address. It will pick up one from the DHCP server.
First check the settings of your router.
If it is secured then make sure that you have the correct network key/password.
How to check wireless settings of the router.
How to setup Linksys WET610N: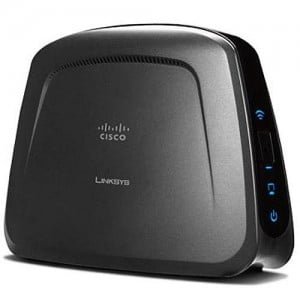 Connect WET610n to the router with the Ethernet cable. Press and hold the reset button on wet610n for 30 seconds. Release the reset button and wait for 30 seconds. Power cycle the bridge.
Now open the setup page of your router and go to the DHCP client table list. In this list you will find the devices connected . You will find the IP address of linksys wet610n. Note down that number because this will be the number that you need to access the setup page of wet610n.
Open the Internet browser and in the address bar type the IP address of wet610n. It will open the setup page.
Click on Wireless tab and go to Wireless Network site survey. Select your SSID from the list and try to connect. If it is a secured then enter the key/password. It will connect to the network.
Now disconnect the Ethernet cable from the bridge and power cycle it. Now try to ping the IP address of the WET610N.
If you are not able to find IP address of your bridge in the DHCP client table of your router then you can try another way to access the setup page.
Connect WET610N to the Ethernet port on your computer. Press and hold the reset button for 30 seconds. Release the reset button and wait for 30 seconds. Power cycle it.
Now open the Internet browser on your computer and in the address bat type http://169.254.1.250. Log on to the setup page and try to connect to the wireless network.